You can find full transcription of the article below: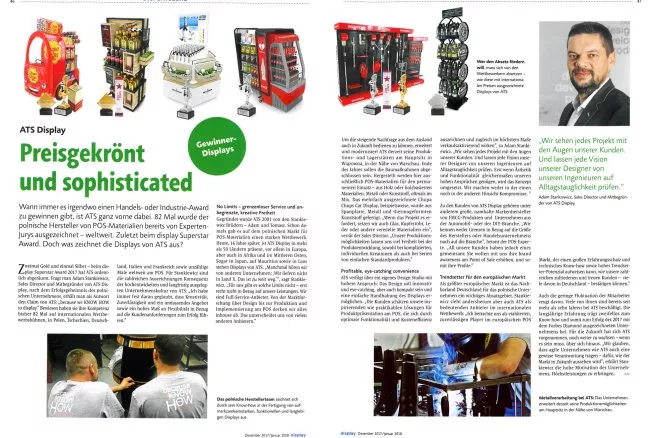 Signature next to photos on the right top
Those who wish to support sales must be different from the competition – like displays from ATS that keep winning international awards.
Signature under the photo from the top right
"We look at every project through the eyes of our clients and every vision of our designers is verified by our engineers in terms of whether it qualifies for everyday use."
Adam Stankiewicz, Sales Director and co-founder of ATS Display
In green circle
Winning displays
Award-winning and sophisticated
Whenever there are business or industry awards to win, ATS is on the top. The Polish manufacturer of POS materials has already won 82 awards from a jury of experts – all over the world and recently at the display Superstar contest. So what makes the ATS displays stand out?
Twice gold and once silver, those are the results of ATS at the Superstar Award 2017. When asked about the secret of the success of the Polish company, Adam Stankiewicz, Sales Director and co-founder of ATS Display responds with company's claim: "because we KNOW HOW to display." They have already proved their competence 82 times on the stages of international contests in Poland, the Czech Republic, Germany, Italy and France, as well as countless times in purchase points around the world. For Stankiewicz, numerous awards are a consequence of the highly developed and long-term culture of the company in ATS: "I have always believed deeply that creativity, reliability and a comprehensive offer as well as a high flexibility in relation to a client's requirements lead to success."
No Limits – Freedom in service and creativity
ATS was founded in 2001 by the Stankiewicz brothers, Adam and Tomasz. Even then, there was strong competition in the Polish market of POS materials. Today, 16 years later, ATS is present in over 50 countries, primarily in Europe, but also in Africa and the Middle East. The displays from ATS are present even in Japan, in Mauritius and in Laos. "Sometimes we hear from other companies:" We do not deliver to country X. It's too far away" says Adam Stankiewicz. "For us, such limits do not exist, and certainly not in terms of our services. We are a supplier that offers comprehensive services. Starting from market research through design to production and implementation at point of sale, we provide everything in house. This distinguishes us from many other companies."
Signature under the photo from the bottom left
The Polish manufacturer is exceptional with its know-how in the production of eye-catching, functional and durable displays.
In order to be able to handle the growing demand from abroad in the future, ATS is currently expanding and modernising its production plant and warehouses at its headquarters in Wiązowna, near Warsaw. The construction works should be completed by the end of the year. The production applies to POS materials for permanent use, from wood or wooden-based materials and also metal or plastic, often combined with each other. For example, the Chupa Chups Car, the award-winning display is made of chipboard, metal and thermoformed plastic. "If the project requires it, we also use glass, copper pipe, leather or other refined materials," reveals the Sales Director. "Our production capabilities enable us to be flexible with a product's development, both for complex individual creations and for a series of simple standard products."
Profitable, eye-catching, convenience
ATS has its own design studio with great ambitions: Design should be innovative and eye-catching, but the product should be also compact and easy to use. "Clients value our inspiring but practical solutions in the field of product presentation at the point of sale, characterised by optimal functionality and cost-effectiveness, and at the same time having the highest sales activating effect," says Adam Stankiewicz. "We look at every project through the eyes of our clients and every vision of our designers is checked by our engineers in terms of whether products qualify for everyday use. A given concept is produced only when aesthetics and functionality meet our high requirements in equal measure. We do not compromise in any of these aspects. "
Among the ATS clients there are, among the others, great, well-known manufacturers of FMCG products and companies from the automotive or DIY industries. "We are not limited by the size of the manufacturer, trading company or the industry," emphasises an expert from the POS industry. "However, one thing is common to our clients: They want to increase their brand awareness at the point of sale and thus their profits."
Trendsetter for the European market
The neighbouring country, Germany, as the largest European market, is an important sales area for the Polish enterprise. Adam Stankiewicz also sees ATS as a significant supplier among international competitors: "I see us as a credible player with a stable position in the European POSM market, which can demonstrate extensive experience and technical know-how as well as high trend setting potential, which can be confirmed by our satisfied and loyal clients – many of them in Germany."
This is also evidenced by the low fluctuation of employees. Many of them have been working for ATS already for more than a decade. Long-term experience undoubtedly contributes to the know-how and thus to the success of the company, which has been awarded the Forbes Diamond in 2017. In the future, ATS intends to grow further, if necessary. "We believe that agile companies such as ATS also have a certain responsibility, for how the market will look in the future," that's how Stankiewicz explains the company's high motivation to provide services at the highest level.
The employees of ATS Display, company that designs and produces POS materials, were also on the magazine's cover along with the other winners of the Superstar contest.