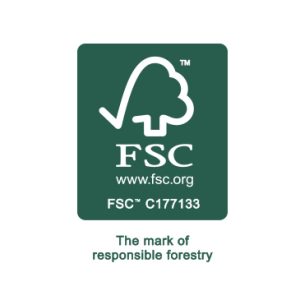 ATS Display's production process includes wood and wood-based raw materials. As sustainable growth is within our highiest interest, so is sustainable forest management, in 2022 we decided to undergo the FSC™  (Forest Stewardship Council™) certification process.
FSC is an international non-profit organization that certifies forests, wood and paper products. This organization cares about sustainable timber harvesting, taking into account social, ecological and economic aspects.
As a manufacturer of various solutions, among others made of wood and paper, on May 5, 2022, we received the FSC CoC certificate number BV-COC-786567. Our license number: FSC-C177133. This certificate is based on the chain of custody of the product, which means that at every stage of obtaining and processing the raw material, FSC standards are followed. Thanks to the FSC CoC certificate, we guarantee that the raw materials come from responsibly managed forests, we have the opportunity to label our products with a globally known mark, we expand the market for our products, but most of all, we increase the awareness and interest of consumers in the origin of the products.